Home
>
About Me
About Mike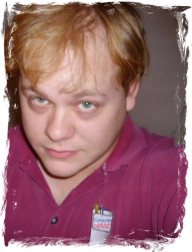 Hello! Yes, that's me. I live in St. Louis, Missouri. I'm 25 years old.

I am not totally behind the times. I do a lot of Windows and Linux programming as well, but you can find a million other sites about that stuff! I think and hope that the QuickBASIC and DOS communities (is there even a DOS community any more??) would appreciate a site like this, that lets them use QuickBASIC to create programs that are actually useful today.

Maybe you can drag that old 286 or 8088 out of the basement, brush off the dust, and give it new life as a web server or something like that... if it still works. Feel free to get in touch with me on the contact page, or hang out in the forums here. I'd love to know if you have some ideas for future projects that I can start work on!

I am always looking for new ideas. Even if you just want to say hi and tell me which of my programs you enjoy the most, or if you just want to tell my programs suck and stop what I'm doing right now.
-Mike